How to Use Cherry Bomb Long-Range Deer Attractant
February 15, 2022
Redmond Cherry Bomb long-range deer attractant is powered with Trophy Rock minerals that nourish deer. Learn how to use it to draw deer and rock your hunt.
---
As summer wanes, it's time to site in on deer hunting season and sort out your strategies for fall. It's also time to stock up on Redmond Cherry Bomb or Apple Bomb long-range deer attractant and start using it on your herd before your big hunt.
If you've used Bomb in the past, we've got tips to help you get the most out of it this year. If you haven't tried it yet, it's time to grab a bag and bring your big-game skills to the next level. Let's review the facts on Bomb and discuss six ways you can best use it before and during your hunting season.
What is Cherry and Apple Bomb?
Cherry Bomb and Apple Bomb are Redmond Hunt's super effective, amazing-smelling long-range deer attractant. Bomb helps you bend deer to your will and draw them to places you choose to get awesome trail cam pics or the perfect shot.
Beyond being a high-powered attractant with a potent aroma, Bomb is also a supplemental feed with high nutritional value you can feel good about giving deer. It has a proprietary blend of palatable protein ingredients, vitamins, and essential minerals. (Find ingredient analyses here: Cherry Bomb, Apple Bomb.)
There are some good deer attractants out there, so what makes the Bomb better? The expansive natural trace minerals are what really set our mix apart. While most supplemental deer feeds have 6-7 minerals, Bomb has 60+ essential minerals that come from our Redmond mine in Utah, USA. It's a high-quality mix that outperforms every other long-range attractant we've tried—and one we're confident you'll find success with too.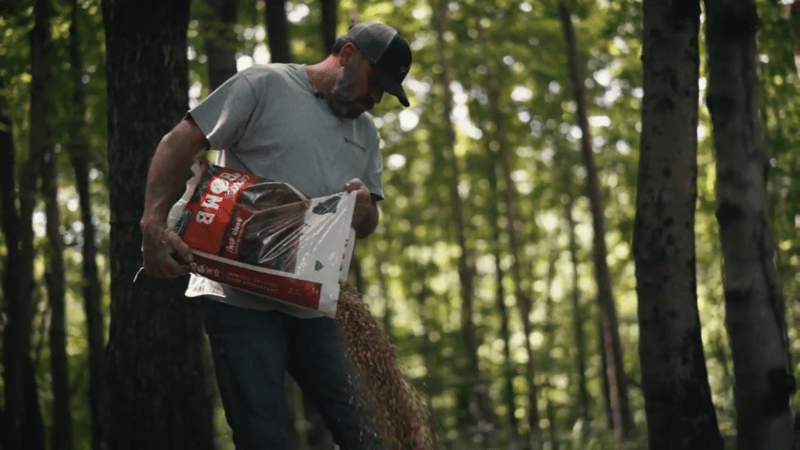 How Should You Feed Cherry Bomb Attractant?
Once you've selected a mineral site or location you want deer to visit, you can feed Bomb a few different ways.
Clear a small area and spread it evenly on the ground for deer to eat. Avoid heaping it in a pile; this allows Bomb to dry out if it gets rained on.

It also works great in gravity feeders. We recommend a gravity feeder over broadcast or spin models, as Bomb has fine particles deer can't find when scattered. Using a feeder keeps feed dry and helps avoid molding on the ground.

You can also mix Bomb 50/50 with corn to prolong its use and add some extra enticement for deer.

Pair Bomb with a natural Trophy Rock deer mineral lick for optimal supplementation.
Replenish Bomb at your site as desired or needed. Just be aware—deer love Apple and Cherry Bomb! If you free-feed it, they'll probably gobble it up faster than you can replenish it. Instead, try using it as a teaser, not a straight feed, to lure deer into specific locations where you're hunting or have trail cams set up.
6 Hunting Strategies Using the Bomb
Late summer is the time to start working out your game plan to bag that alpha male you've had your eye on—and Cherry or Apple Bomb should be a key player. Check out the video and hunting tips below to learn how to use Bomb to your best advantage when bringing in that hard-to-hunt buck.

1. Put it Out Early
Bomb attractant and Trophy Rock natural deer mineral lick are the perfect pair for year-round mineral supplementation. Deer will hit Trophy Rock hard from January to August then leave the Rock at the end of summer. That's the time to switch to Bomb to keep deer visiting your mineral site. Introduce Bomb around July 4th to get deer used to it; don't throw it out the day of your hunt. Make a small amount available at least two months before and gradually increase the amount at your site. This will avoid alarming deer with a sudden change. Check out the video to the right for more info on transitioning from Trophy Rock to Bomb attractant at your site.
2. Set Up a Camera
If you're using Bomb, you're gonna want a trail camera nearby. Obviously, you'll get great photos to share, but video and pics also help you inventory deer and silently stalk the one you'll be targeting come fall.
3. Save Your Spot
Get deer used to Bomb somewhere besides your tree stand or the spot you intend to hunt from. When you eventually do hunt and put out your attractant, deer will know the smell and won't be skittish of it.
4. Pick Your Angle
Put Bomb in a spot where the yardage and angles are right for minimal movement to aim and shoot your deer.
5. Work with Wind
Place Bomb in an optimal location for the scent to carry down into deer bedding areas or to bring deer in the direction you prefer for best viewing or hunting.
6. Be Scent Conscious
If you put Bomb in a hunting spot where the wind is carrying the smell into a bedding area, that means your scent is also blowing down and alerting deer. Use Bomb Spray (also in cherry or apple), our handy field spray, to cover up your smell. One or two squirts on your stand or tree will mask your scent and entice deer in.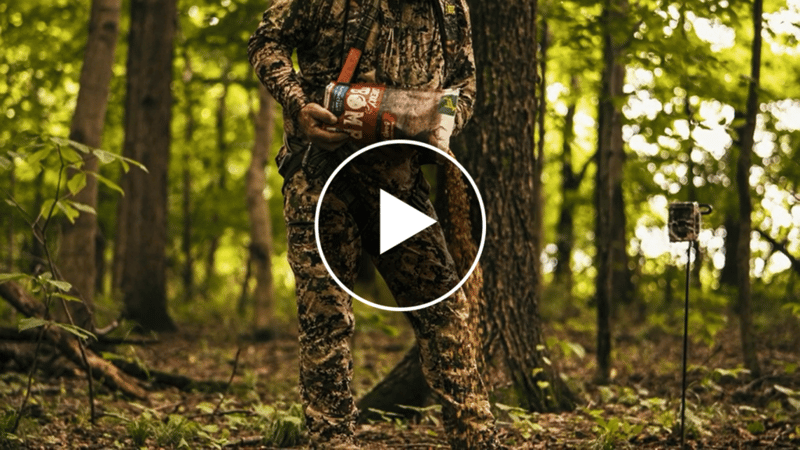 Where to Buy Bomb Long-Range Deer Attractant
Our long-range attractants are available almost anywhere! Before you buy, however, check local regulations to see if baiting and feeding is legal in your area. Bomb comes in 6- and 20-pound bags. It's available at most large retailers, including Cabela's, Tractor Supply, and Bass Pro Shops. (For a full list of retailers, click here.) Want to buy Bomb online now and have it delivered to your door? We've got you covered! Just click below to visit our Redmond Hunt store and purchase your favorite Bomb flavor or Bomb/Spray combo today.
Copyright © Redmond Hunt. All rights reserved.
YOU MAY ALSO LIKE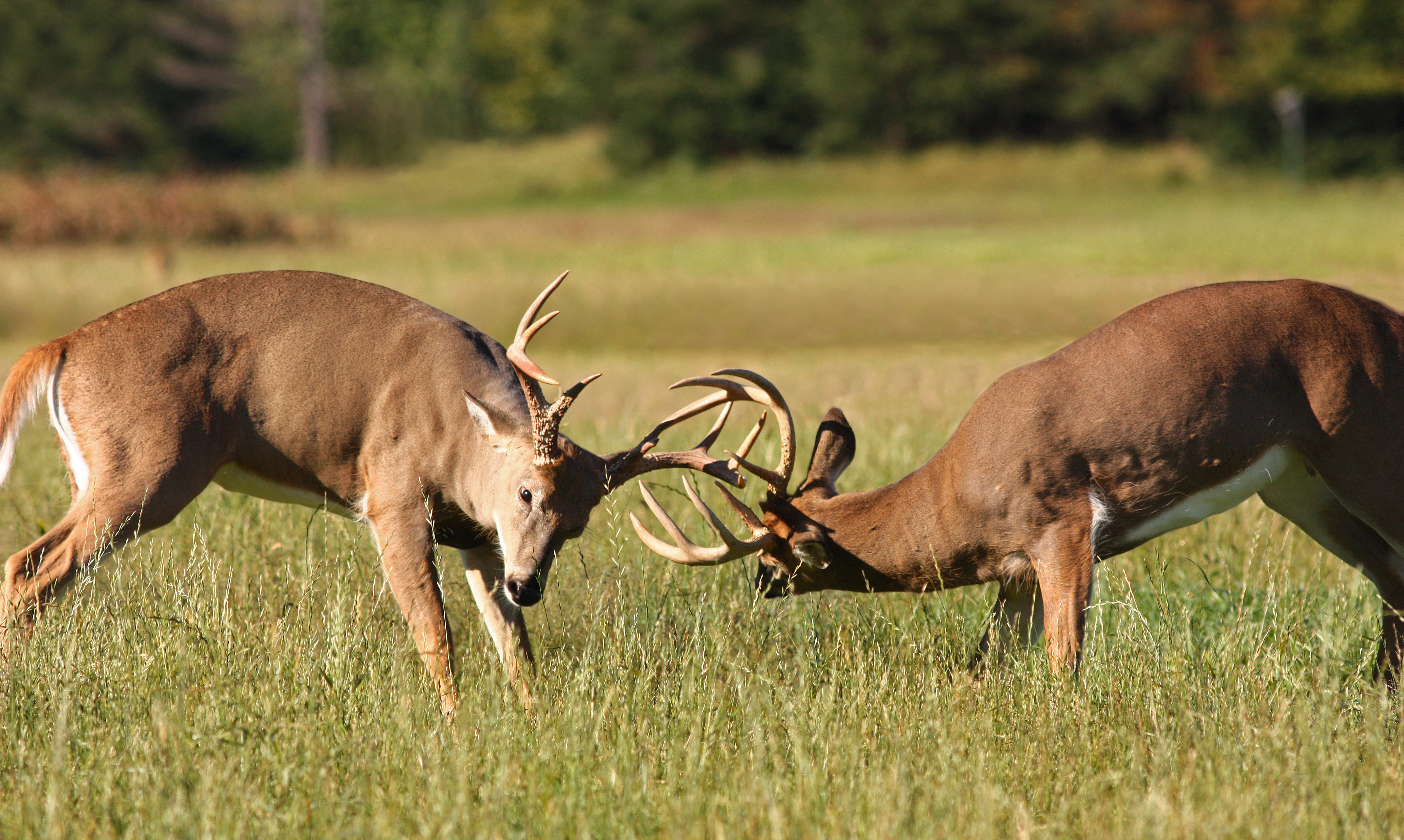 The rut is the most epic time of the year—for hunters and whitetails alike. It's the season when...