Upland Game Bird Pot Pie | Redmond Hunt Recipes
April 13, 2022
Have you been upland bird hunting? Game birds make delicious meat! Try this quail, pheasant and chukar recipe for pot pie—a savory way to cook game birds in the oven.
---
Upland bird hunting is a sport that combines smarts and strategy with the thrill of the chase. It requires quick reflexes, thinking on your feet, and the skills of a gifted bird dog. The rewards come with the unpredictability of where your quarry will fly up and the satisfaction of snagging them when they do—not to mention the high volume of birds you can legally tuck in your game pouch.
Even if you're not a passionate bird hunter, you can still enjoy a good game bird dish. Meat like pheasant, quail, dove, and grouse, if not already in your freezer, can also be found in specialty supermarkets. Figuring out what to do with it once you get it home, however, can be a head-scratcher.
That's why we suggest starting with a basic recipe—like this chukar, quail, and pheasant pot pie from Andrea Rothove of Huntress View. She's an avid hunter and outdoor enthusiast who loves preparing recipes from wild game she harvests. Andrea and her husband bagged a mess of birds on a recent upland hunt, and she put her culinary skills to work to create this dish.
While there may be fancier ways to serve up game bird, it's hard to beat this filling pot pie. It's homey and layered with flaky crust, tender potatoes, vegetables, and savory meat. The recipe is hearty enough to feed the entire family. And while the delicate meat hints at high-end cuisine, pot pie's humble roots anchor it solidly in the classic comfort food category.
If you have a hunt planned or any type of upland game birds stowed in your freezer, this recipe is well worth saving—and savoring!
Upland Game Bird Pot Pie
By Andrea Rothove, Huntress View
Upland game birds are some of the most flavorful and delicious wild game meats you'll find. My husband and I had a variety of birds—chukar, quail, and pheasant—in our freezer, but didn't have enough of each meat to make a meal on its own. Adding them to a pot pie made perfect sense!
This recipe makes two pies, which is great for filling up a large family. If you're only feeding a few, split the recipe in half to make one pot pie. Or use the full amount of ingredients, make one pie, then add the rest of the filling to a baggie and freeze until you're ready to make the second. Use whatever game bird meat you have on hand.
Ingredients
Pot Pie:
4 pie crusts – 2 for top and 2 for bottom. (I use Pillsbury refrigerated pie crusts)
1-2 lbs marinated and sautéed game birds, cut into bite sized pieces
1 ½ cups boiled potatoes, diced
1 cup carrots, sliced
½ cup celery, sliced
½ cup onion, diced
1 cup peas, frozen
½ can corn
1 cup whole milk
2 cups chicken broth
1 chicken or vegetable bouillon cube, crushed
¼ cup butter, unsalted
½ cup all-purpose flour
Redmond Real Salt, to taste
Redmond Organic Garlic Pepper, to taste
Celery salt, to taste
1 egg beaten (for egg wash)
Marinade for Birds:
½ cup soy sauce
1/3 cup olive oil
1/8 cup Worcestershire sauce
1 tsp minced garlic
2 Tbsp basil
1 Tbsp parsley
1 tsp Redmond Organic Garlic Pepper
1 tsp Redmond Real Salt
Instructions
Cut your game birds into bite-sized pieces and marinade in a covered container in the refrigerator for a few hours.
Melt some butter in a skillet and sauté game birds on medium heat until no longer pink in the middle. Make sure to cook the meat low and slow so you don't overcook the birds and get tough and dry. Set aside.
Preheat oven to 375 degrees.
Boil diced potatoes until they are slightly soft. Drain and set aside.
In a large skillet, sauté carrots, onions, and celery until just tender. Remove from pan and set aside.
Melt butter in the same skillet over medium-high heat.
Add flour to butter, whisk and cook for 1 minute.
Add chicken broth, milk, and crushed bouillon. Stir and add Redmond Real Salt, celery salt and Redmond Organic Garlic Pepper.
Simmer until thickened, stirring often (about 5 minutes).
Add carrots, onions, celery, peas, corn, potatoes, and game birds. Mix well.
In two prepared 9-inch pie pans, add the bottom pie crusts.
Pour the pie filling on top of the crusts.
Cover with the second pie crusts.
Using a fork or your fingers, seal the edges of the pie crusts together.
Beat an egg and brush it on top of the crusts.
Make a few small cuts into the top of the crusts to vent.

Bake for 40-50 minutes, until top crust is golden brown in color. (Note: You may want to use tin foil or a pie crust shield around the crust edges to prevent them from getting too brown. Just watch the pies while cooking and if you notice the edge is starting to get brown and the center of the crust isn't, go ahead and use a shield.)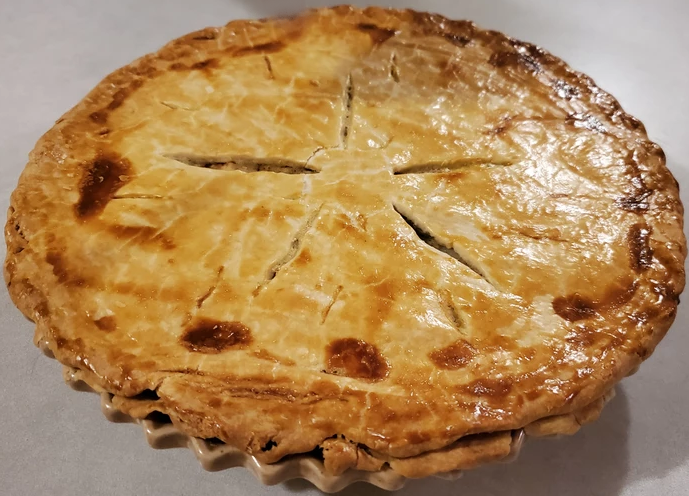 Looking for other wild game recipes to use up the meat in your freezer? We've got more ideas to add to your cooking arsenal! Visit our blog to explore Redmond Hunt recipes focused on tasty dishes made from foods you can forage and meat you harvest.
© Redmond Hunt 2022. All rights reserved.
YOU MAY ALSO LIKE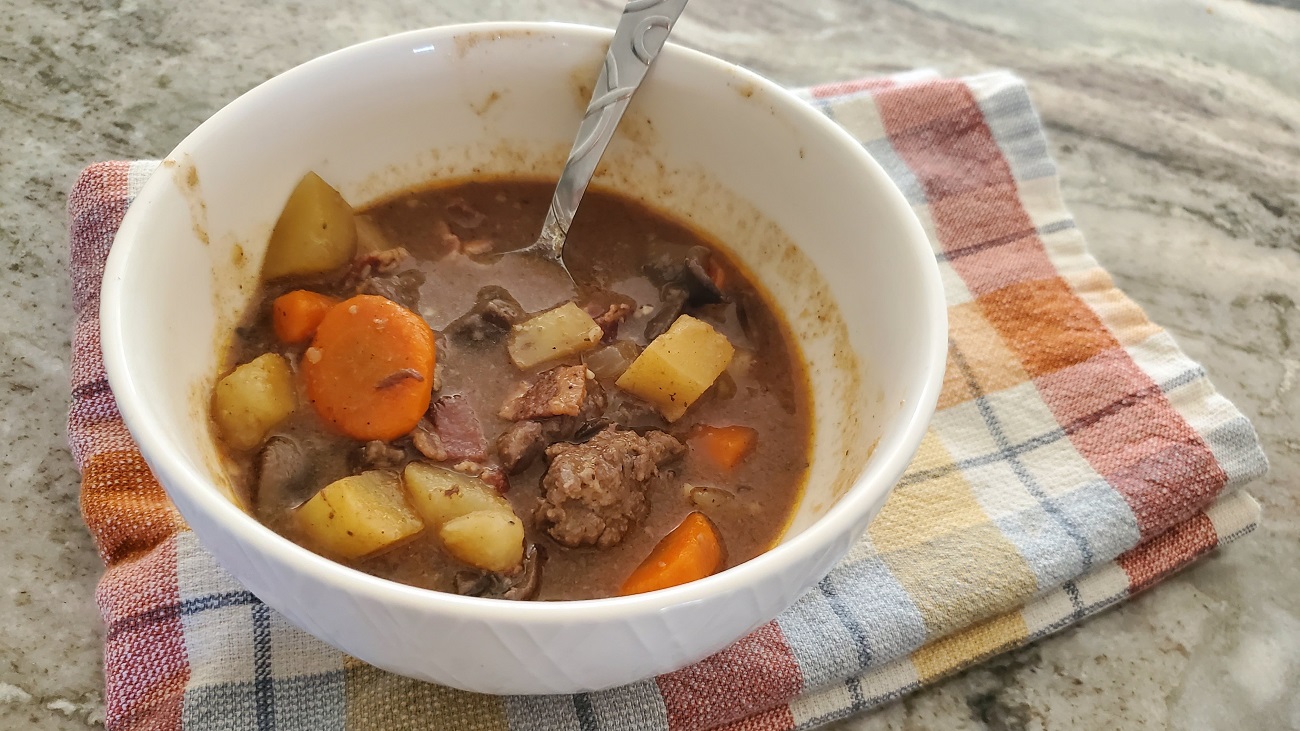 Savory Dutch Oven Venison Stew | Redmond Hunt Recipes
Did you tag a nice deer this season? Are you now on the hunt for a hearty venison stew recipe that...