Redmond Hunt Recipes: Dutch Oven Venison Stew
February 18, 2022
Looking for a savory baked venison stew recipe? Stew is one of the best ways to cook tender venison. Tie on an apron & try this recipe from Redmond Hunt!
---
Did you wrap a tag around a pair of deer antlers this season? Are you now on the hunt for a hearty venison recipe that warms up the house and satisfies your insides? If you've got a freezer full of meat, we've got a flavorful new recipe to help you unpack it and put it to use. It comes from Andrea Rothove of Huntress View. She loves creating and preparing recipes from the wild game she harvests—and then sharing them with others.
There's a lot to love about this recipe—from the rich flavor, to the chunky veggies, to the way it's stewed. It's made the old-fashioned way in an enameled dutch oven (like this one Andrea uses) and baked in the oven for even heat distribution and oh-so-tender meat. It's the ultimate comfort food for crisp autumn days, afternoons in the woods, or cozy nights in.
So tie on an apron and get ready to fill your kitchen with the fragrant smells of warm venison stew! It marries seared venison, sizzling bacon, simmering red wine, and tender vegetables in thick gravy, all slow-baked to bubbling perfection. Serve it alongside warm, crusty bread or a hunk of cornbread and a crisp salad to top off your supper. Wrap your hands around a hearty bowl and visit deer harvest heaven.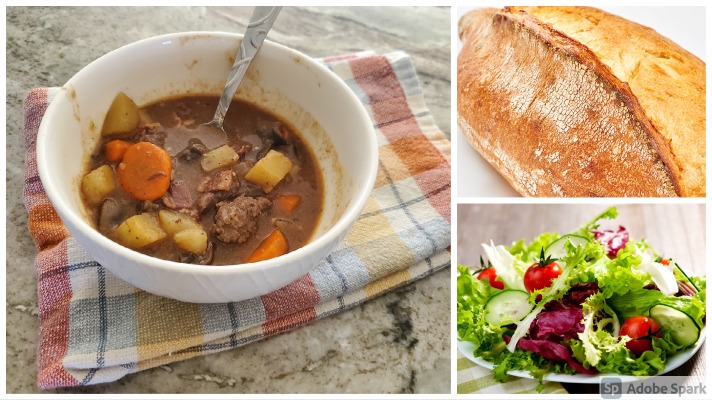 Savory Dutch Oven Venison Stew
By Andrea Rothove, founder of Huntress View
My family and I always process our own deer meat. While doing so, we keep in mind our favorite recipes and make sure we package certain cuts of meat specifically for them. This Dutch Oven Venison Stew is a family favorite—and the main reason we make sure we have plenty of venison stew meat in the freezer! While I haven't shot a deer yet this season, I recently found one last package of venison stew meat from past seasons and made this recipe to hold us over. Quality ingredients like Redmond Real Salt and a good dry red wine take this recipe to the next level and make it absolutely amazing. I highly suggest giving this one a try this season!
Ingredients
6 oz bacon, chopped into pieces
2 Tbsp olive oil, to sauté
2 lbs venison stew meat
2½ tsp Redmond Real Salt, or to taste, divided
1½ tsp black pepper, freshly ground, divided
¼ cup all-purpose flour
2 cups good dry red wine (my favorite for this recipe is Pinot Noir)
1 lb baby portabella mushrooms, thickly sliced
4 carrots peeled and cut into ½-inch thick pieces
1 medium yellow onion, diced
4 garlic cloves, minced
1 Tbsp tomato paste
4 cups beef broth or beef stock
2 bay leaves
½ tsp dried thyme
1 lb small potatoes, new potatoes, or fingerlings, halved or quartered
Instructions
In a large dutch oven or oven-safe pot, sauté bacon over medium heat until golden brown.
While bacon cooks, place venison stew meat in a large mixing bowl and season with 1½ tsp Redmond Real Salt and 1 tsp black pepper. Add Redmond Season Salt to taste. Sprinkle venison with ¼ cup flour and toss to evenly coat meat.
Using a slotted spoon, remove cooked bacon from dutch oven to a separate bowl.
Transfer venison in two batches into hot bacon fat and cook over med/high heat until venison is browned (a few minutes per side). Add olive oil if needed. Transfer browned venison to the bowl containing bacon.
Add 2 cups red wine to the dutch oven and bring to a boil, scraping the bottom to deglaze the pot. Add sliced mushrooms and simmer over medium heat for 10 minutes.
Meanwhile, heat a large non-stick skillet over medium/high heat and add 2 Tbsp olive oil. Add sliced carrots, diced onion, and 4 chopped garlic cloves, and sauté until vegetables start to soften but still have some firmness (about 4 minutes). Add 1 Tbsp tomato paste and sauté another minute.
Transfer veggies to the dutch oven and add 4 cups beef broth, 2 bay leaves, ½ tsp dried thyme, 1 tsp Redmond Real Salt, and ½ tsp pepper.
Return venison and bacon to the dutch oven, then add potatoes. Stir to combine and ensure potatoes are submerged in liquid.
Cover with lid and bake in the oven at 325˚F for 1 hour 45 minutes. Let the stew cool a bit, remove the bay leaves, and serve! Goes great with crusty bread and/or your favorite fresh salad.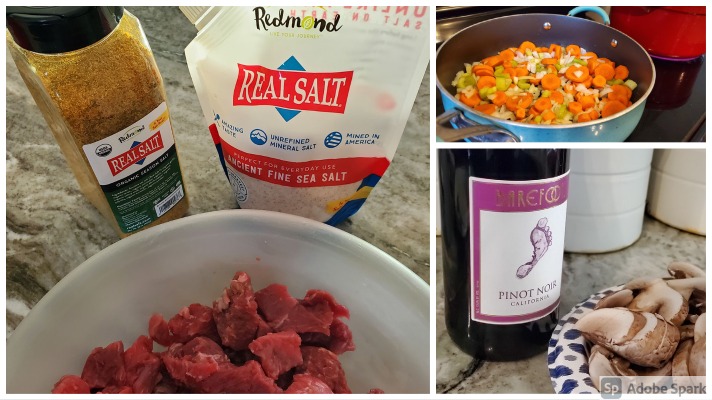 New to Redmond? Interested in learning about our quality deer mineral products that can help you draw in your next big deer? Click the button below!
© Redmond Hunt 2022. All rights reserved.
YOU MAY ALSO LIKE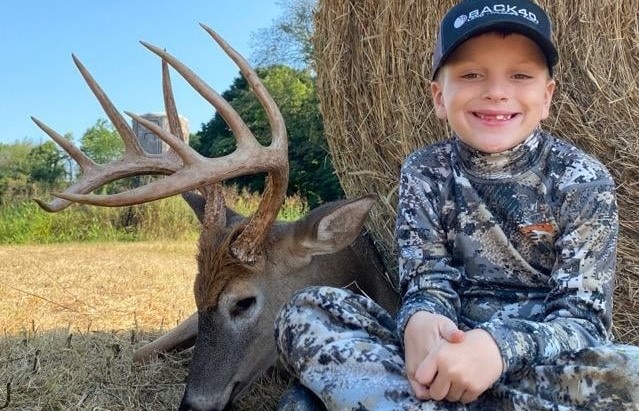 As the cooler weather sets in, much-anticipated fall hunts begin. It's the season for brisk...