Trophy Rock vs. Knockoff Mineral Rocks for Deer—Is there a Difference?
April 17, 2023
When it comes to mineral rocks for deer, Trophy Rock is king! Learn what sets Redmond Trophy Rock apart from other deer salt licks, and how to best use it.
---
If you're a whitetail hunter, chances are you're no stranger to Redmond Trophy Rock® and its epic ability to attract deer. Whitetails hammer the Rock and hunters have trusted it for nearly 20 years to nourish deer and help them consistently harvest bucks at 20 yards. But just what is a Trophy Rock? How do you best use it? And how does the Rock stack up against other deer mineral licks on the market?
Whether you're a seasoned Trophy Rock user or shopping your options, we've got the straight answers you need! Read on to discover expert tips for maximizing Trophy Rock and why you should keep your rock real. Because when it comes to mineral rocks for deer, Trophy Rock is still king—the one you can trust.
What to Expect from Trophy Rock vs. Other Rock Salt for Deer
Trophy Rock is an all-natural mineral salt lick for deer and a powerful attractant. It contains simple ingredients: just unrefined mineral salt with a full spectrum of balanced trace minerals deer need. For many hunters and herd managers, Trophy Rock's quality and ability to grow healthier herds and bigger bucks is unequaled.
However, we understand some of you who are new to the Rock may have questions. Like does it actually live up to the hype? Or how does Trophy Rock compare vs. Jurassic Rock, Bio Rock, or Himalayan deer mineral rocks on the market? Let's talk about where Trophy Rock comes from, what sets it apart—and why it's still the smart choice.
Mined in the USA. Trophy Rock is not manufactured—it's mined. We harvest our deer salt lick from deep within Redmond's underground mineral deposit in Utah, USA. Your purchase supports American jobs and the American economy.
High-Quality Rocks. We source your rocks from high-quality mineral veins free of muddy seams. It won't easily crumble in the field like some competitor rocks. (Check out the video to your right for an example of Jurassic Rock vs.

Trophy Rock durability.

)
More Mineral Content. Trophy Rock is made of 60+ minerals and an average 93% salt and 7% mineral content. Himalayan salt rock for deer (like Bio Rock) has approximately 98% salt and 2% mineral content. Deer get more of the minerals that matter with Trophy Rock!

History & Experience.

Not only has your rock been around a couple million years, but Redmond has been in the mining business for over six decades! We know something about sourcing quality rocks that improve your hunting experience.
Rigorous Quality Control. Every Trophy Rock goes through six quality checks to ensure you get a high-performing rock and the best bang for your buck.
Hunters Like You. Trophy Rock is mined, sorted, and packaged by small-town people who are also hunters. Redmond employees receive a living wage and work in top-rated mining conditions.
Satisfaction Guarantee. Every rock that leaves our facility is fully backed by our Redmond Hunt Promise. If you're not completely satisfied, we'll make it right, guaranteed.
How to Recognize the Trophy Rock Difference
Maybe you've seen other salt rocks for deer appearing on retailer shelves—some even using similar claims as Trophy Rock. Let's clear the confusion. If your rock doesn't have the Redmond Trophy Rock® name on it, it's not the real deal and doesn't come from our company or mine. Which means you may not get the trusted results or customer service you're hoping for.
So besides the label on the rock, how do you recognize a genuine Trophy Rock? Here are three key things to look for when choosing the best mineral lick for deer—and why you can always count on Redmond to deliver:
Density: A quality rock is dense and solid, not flaky or muddy. We harvest Trophy Rock from high-quality mineral veins, so it lasts longer in the field without crumbling.
Structurally Sound: A rock should not have fractures or cracks. Trophy Rocks undergo rigorous inspection on our production line before it makes it into your hands.
Color Variation: Look for sheen and multiple color tones. Trophy Rock's unique mineral composition gives it a naturally vibrant color variation. Stay away from rocks that are predominantly dark or dull.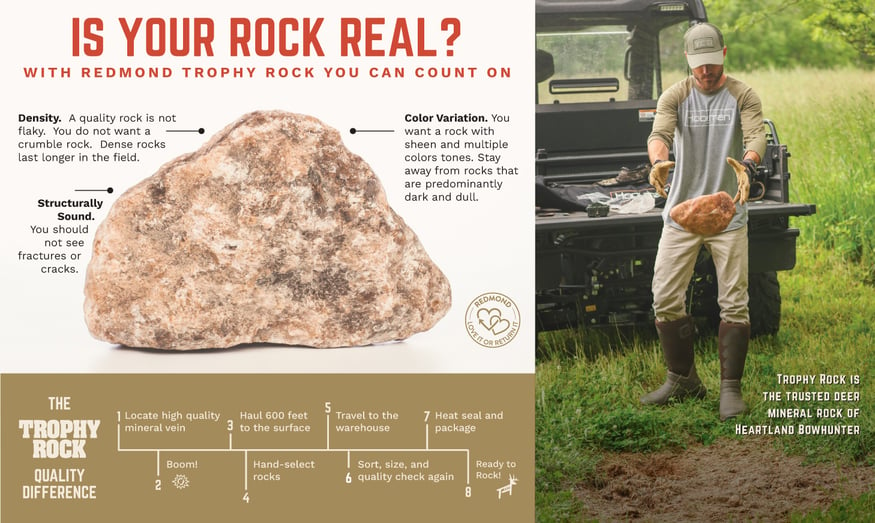 Everything You Need to Know About How to Use Trophy Rock
Setting up a Trophy Rock mineral site for deer is simple. Follow these three easy steps below and you'll be in business:
Find a spot you can easily access and that deer frequent often—near food sources or bedding locations often work best.
Elevate your rock on a stand, stump, or another rock to keep it out of puddles and allow deer to lick it in a less defensive posture.
Add a trail camera to your site. Trophy Rock makes a great trail cam companion for scouting, hunting, and wildlife observation.
Does Trophy Rock Really Work?
So, you just set up a Trophy Rock. Nice work! Now what happens after you put out the rock, and what should you expect? Here are four things to watch for:
High Usage. Expect deer to visit your site often in spring and early summer. Deer eat more rock salt during these months for two reasons: they experience a sodium deficiency due to higher potassium and water content in spring forage; bucks need the minerals for antler growth and does need them to support growing fetuses and nursing fawns.

Lasts longer.

Trophy Rock holds up better in the field than manufactured mineral blocks, which means you'll get more use and more bang for your buck.
Candid Photos. Get ready to capture more share-worthy pics and videos of deer and critters licking Trophy Rock—and sometimes doing funny things! We've caught bears packing rocks off, elk rolling them around, and a raccoon stowing three under a tumble-down shed. Critters love the Rock, and when one crosses their path? Don't be surprised if they check it out, taste it, and sometimes steal it.
August Decline. Keep in mind that deer typically leave mineral sites around mid-August. This is expected, so don't worry. We've got solutions below to keep your herd returning in the fall.
How Long Does Trophy Rock Last?
A rock generally lasts one to three months in the field. You'll want to swap it out when it's about the size of a softball. These three factors can affect or improve the longevity of your rock:
Strategic Placement. Trophy Rock lasts longer if you get it off the ground. Set it on a stump, stand, or larger rock for best results. A rock sitting in a puddle can dissolve in just days. Remember, if that does occur, not all is lost! The minerals are still there in the soil for deer to use.
Weather Conditions. If your area experiences very wet weather and your rock is in the open, it will dissolve faster. Adding a high roof or covering will protect it from rain, helping it last longer.
Deer Usage. Two factors affect how much Trophy Rock deer use. Do you have a large herd? Rocks will disappear faster. Is it spring or summer? Deer hit minerals harder from March to mid-August.
Trophy Rock Reviews from Real Customers
Trophy Rock has been building healthier herds and pulling in big bucks for hunters and wildlife enthusiasts for nearly 20 years. It's one of the most trusted and best-selling deer mineral salt supplements on the market. But don't take our word for it! Read the recent testimonials below from customers who have seen the results firsthand and become Trophy Rock fans. (Get more Trophy Rock mineral lick reviews here.)

What to Do When Deer Stop Using Mineral Licks in the Fall
It's completely natural for Trophy Rock usage to drop around mid-August. By then, bucks' antlers are going to a hard horn and most does are weaning nursing fawns. That means their mineral and nutritional needs change and visits to mineral sites decline.
You can keep deer coming back by amping up your site with Liquid Trophy Rock. Simply top your rock with Liquid Trophy Rock to quickly activate the site with a sweet scent that pulls deer in. Liquid contains the same 60+ balanced minerals as original Trophy Rock but in a pourable form with high-powered attraction.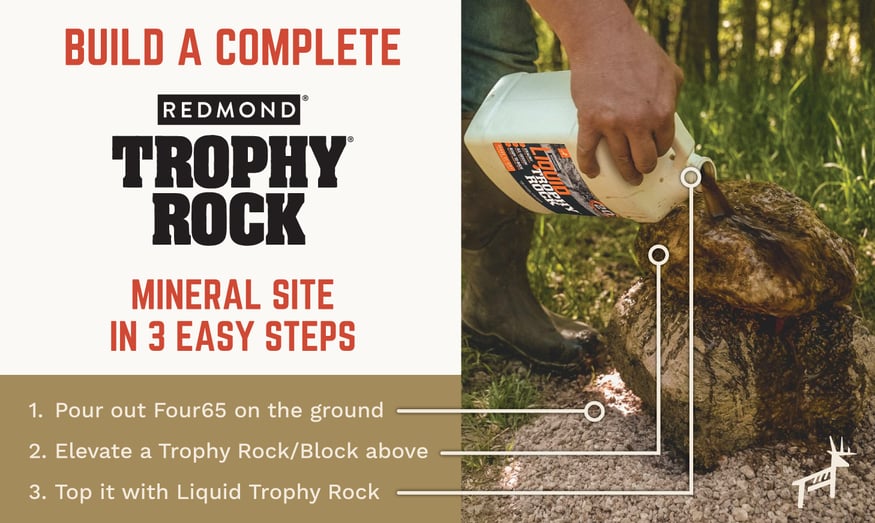 Build a Complete Redmond Trophy Rock Mineral Site
Want to expand your site beyond the Rock? Set up the ultimate Trophy Rock mineral site! It's a one-two-three punch for year-round deer nutrition and drawing power. Here's how to set up a complete site in three simple steps:
Clear an area on the ground and pour out Four65 granular minerals.
Elevate a Trophy Rock on a stump, stand, or larger rock above.
Top off your Rock with Liquid Trophy Rock to quickly activate the site.
If you're on the hunt for a reliable mineral lick to attract and nourish deer, Trophy Rock tops the list. It's the time-tested and proven option hunters trust and deer crave. So, keep your rock real! Choose Trophy Rock and follow these pro tips to maximize your results and bring your hunting experience to the next level. Click below to shop Trophy Rock products today.
YOU MAY ALSO LIKE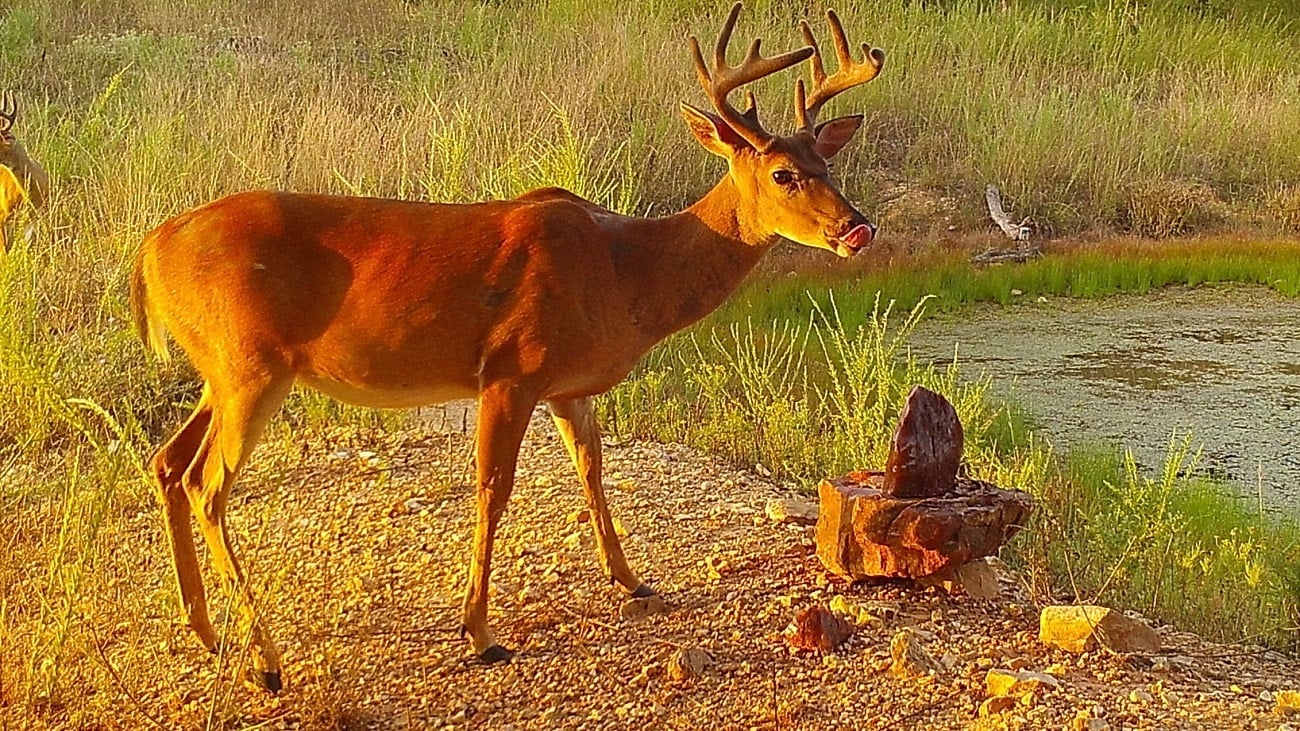 Salt Block for Deer, Mineral Block, or Mined Rock?
Some of us have a sweet tooth while others crave salty stuff—like a perfectly cured piece of...